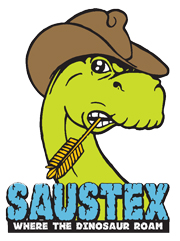 PHOTO: NEAL ZLOZOWER/ATLAS ICONS

Saustex Records is pleased to present "Mutants Of The Monster" a 17 track, first ever tribute to 1970's Arena Rock legends Black Oak Arkansas. Joecephus & The George Jonestown Massacre provide rock hard backing to the guest vocalists and instrumentalists that appear on the record breathing new life and energy into BOA's classic catalog. Featured artists include: Blaine Cartwright and Ruyter Suys (Nashville Pussy), Jimbo Mathus (Squirrel Nut Zippers), Robby Turner (Sturgill Simpson) Shooter Jennings, JD Pinkus (Honky, Butthole Surfers), Nik Turner (Hawkwind), Eddie Spaghetti (Supersuckers), Brian Venable (Lucero), Jeff Clayton (Anitseen), Greg Ginn (Black Flag), Rickie Lee Reynolds (BOA), Bill Davis (Dash Rip Rock), Jim "Dandy" Mangrum (BOA), Whiskeydick, Paul Leary (Butthole Surfers), CT (Rwake), Michael Denner (Mercyful Fate, King Diamond), Jimmy Henderson (BOA), Jello Biafra, Nine Pound Hammer, Kyle Turley, Mickey Raphael (Willie Nelson Band) and The Kentucky Bridgeburners.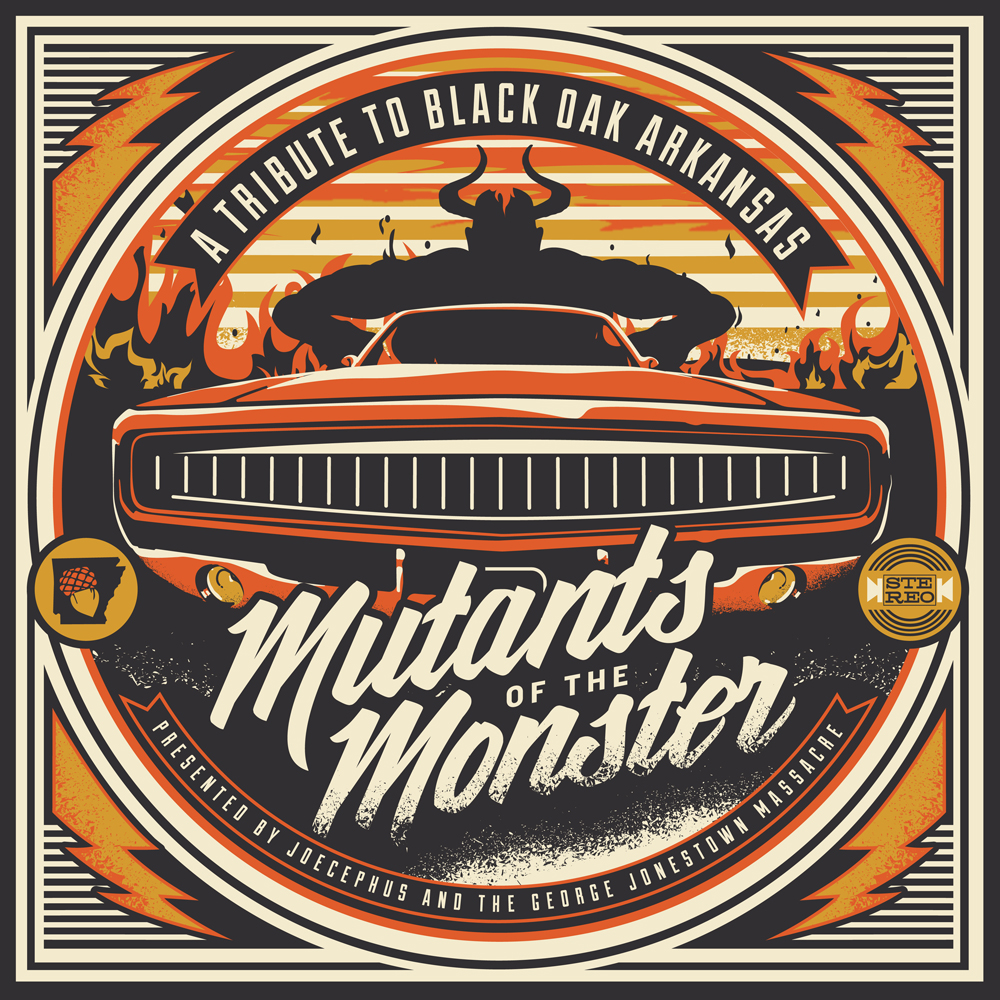 TRACK LISTING:

1. Hey Y'all 4:10

feat. Blaine Cartwright and Ruyter Suys

2. Uncle Lijiah 4:19

feat. Jimbo Mathus and Robby Turner

3. Hot Rod  2:54

feat. Shooter Jennings

4. Swimmin' in Quicksand  3:18

feat. JD Pinkus and Nik Turner

5. Hot and Nasty  2:43

feat. Eddie Spaghetti and Brian Venable

6. When Electricity Came to Arkansas 5:46

feat. Jeff Clayton , Greg Ginn and Rickie Lee Reynolds 

7. Short Life Line 3:43

feat. Bill Davis

8. Fever in My Mind  2:14

feat. Jim "Dandy" Mangrum

9. High 'N' Dry 2:49

feat. Whiskeydick

10. Lord Have Mercy on My Soul  4:15

feat. Jeff Clayton  and Paul Leary

11. Mutants of the Monster  7:03

feat. CT and Micheal Denner

12. Mad Man 3:39

13. Strong Enough to Be Gentle 4:47

feat. Ruyter Suys and Jimmy Henderson

14. Jim Dandy 2:33

feat. Jello Biafra, Ruyter Suys and Bonnie Buitrago

15. Rock 'N' Roll  3:42

Nine Pound Hammer feat. Joecephus

16. The Wild Bunch   4:49

feat. Kyle Turley and Mickey Raphael

17. Keep the Faith 3:00

The Kentucky Bridgeburners

GET THE CD RIGHT HERE! AVAILABLE FOR IMMEDIATE DELIVERY! BONUS ITEMS WITH EVERY CD ORDER ONLY $12 PLUS SHIPPING & HANDLING.

PRE-ORDER THE DOUBLE LP on LIMITED ORANGE VINYL (300 COPIES ONLY). EXPECTED DELIVERY IS THE LAST WEEK OF SEPTEMBER 2016. $21 PLUS SHIPPING & HANDLING.

Various Artists

"Mutants Of The Monster: A Tribute To Black Oak Arkansas"

Presented by Joecephus & The George Jonestown Massacre

"Mutants Of The Monster" is the new 17 track album tribute to '70's arena rock legends Black Oak Arkansas. The tribute is a labor of love that began one night in Tennessee over six years ago. The album's co-producer and Joecephus & The George Jonestown Massacre main man Joey Killingsworth and band played an opening slot for BOA. He was a huge fan of the band and was unable to get a t-shirt in the size he wanted. He was given their manager's number and with one thing leading to another it was soon decided that Joecephus & The GJM would record a single of the BOA tune "Fever In My Mind" with Jim "Dandy" Mangrum himself singing, to be backed with a standalone version of "Hot Rod" by the band. Enter Shooter Jennings, who had been playing Joecephus and the GJM a bunch on his Sirius/XM radio show. Joey mentioned to him that they had a version of "Hot Rod" in the can and Jennings was game to add vocals. The single release never materialized, but after hearing an interview with some members of Black Flag saying how they used to listen to The Stooges and Black Oak Arkansas, and another interview with BOA guitarist Rickie Lee Reynolds saying how they had toured with bands as diverse as Black Sabbath, KISS and King Crimson, Killingsworth decided his heroes were not getting their due and had the inspiration to pursue a BOA tribute album, a feat never attempted before. After announcing that the project would be a benefit for Memphis area animal rescue The Savior Foundation, interest grew and an impressive roster of guest stars joined the cause.

The album is co-produced by studio owner and drummer Dik LeDoux. Joey credits him with getting the best performances out of the various musicians who appear on the record as well as keeping the whole deal rolling by providing demos to potential guest players. Killingsworth (aka Joecephus) and his band The George Jonestown Massacre (in various configurations) provide the backing on all tracks except "Rock'N'Roll" which is anchored by Nine Pound Hammer and "Keep The Faith" - a bonus track donated to the project by Nashville Pussy offshoot The Kentucky Bridgeburners.

But as they say, the proof is in the pudding and the results in this case are most tasty. LeDoux and Killingsworth's genuine love for the band's material really shines through in the arrangements and treatments of the songs, which were tailored for the guest vocalists and instrumentalists. There is a heavy and grooveful thread that runs throughout, breathing new life into and updating the classic Black Oak favorites.

Although Black Oak Arkansas is still a going concern anchored by Mangrum and original BOA guitarist Rickie Lee Reynolds (with a recent album for Atlantic Records), modern recognition of the band is limited to their being lumped in with period southern rocks acts such as Lynyrd Skynyrd and The Marshall Tucker Band. While other acts had a lot more chart success and radio play, they were unmatched as a live act in their heyday (though BOA have one platinum and three gold albums to their credit, and, hold the distinction of being one of only five acts ever personally signed to Atlantic Records by founder and music business hyper-legend Ahmet Ertegun). The band was a top-grossing act, relentlessly touring the arena circuit as a headliner throughout the mid-seventies, performing in front of millions of fans. Jim Dandy's wild-eyed, backwoods Romeo stage antics, combined with the band's classic three guitar attack (and the later addition of Ruby Starr to the live show) was not only visually compelling but also just plain fun; in an era that became typified by increasingly stultified performances. Perhaps the greatest testament to the pervasiveness of the band was Van Halen frontman David Lee Roth's whole-hog co-optation of Mangrum's look and stage moves… Axl Rose might owe some of his vocal stylings to Jim Dandy as well (witness "Fever In My Mind").

"Mutants Of The Monster" captures the essence of BOA's fun spirit and showcases the sturdiness of the material and will hopefully serve as a breeding ground for a new generation of Black Oak fans. With any luck, the album will raise the profile of Black Oak Arkansas, among not only contemporary fans of Classic Rock and Outlaw Country, but critics as well.