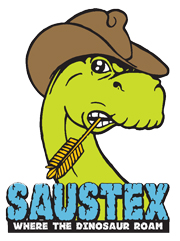 We're happy to be co-presenting our official showcase with Cosmica Artists again, this year at The Javelina Bar. It's a great and diverse bill with some old and new names.

The Copper Gamins (Los Niños de Cobre) kick things off with blues inflected garage rock at 8pm. The duo has just finished recording basic tracks for their new album in Mexico City. Look for them to debut some tunes from the upcoming release.

San Antonio staples The Krayolas bring on Tex-Mex slanted pop rock at 9pm. The band has been a favorite on Little Steven's Garage for several years running and continue to release a steady stream of new material.

  From Tucson, Arizona are Sergio Mendoza y La Orkesta with mambo and cumbia infused Latin Big Band at 10pm. Their live show is known to get the folks moving.

  11pm brings another San Antonio entry The Hares - an exciting young band that mash up psychobilly and New Orleans R & B yielding a sound that is evocative of greats like Jerry Lee Lewis and Fats Domino.Their debut album "Smoking In Bed" comes out in May on Saustex.

  All the way from Berlin come A Pony Named Olga (another new Saustex signing, more on them below) in their first SXSW appearance with a unique blend of Big Beat, Rockabilly, Polka and Punk at midnight.

Austin's own Como Las Movies take Latin grooves places they've never been before --- at volumes they've never been at before, to close the show at 1am. Be there..

SAUSTEX & COSMICA ARTISTS PRESENT

THURSDAY MARCH 13th 8pm

THE JAVELINA BAR

69 RAINEY ST., AUSTIN, TX

SXSW BADGES, WRISTBANDS and SINGLE ADMISSIONS

(Price TBA), 21+

This show will be at capacity. Arrive early!

8pm The Copper Gamins

9pm The Krayolas

10pm Sergio Mendoza y La Orkesta

11pm The Hares

Midnight A Pony Named Olga

1am Como Las Movies

It will be interesting to see how this plays out, starting SX Music Week on a Wednesday night at one of my favorite Austin venues, The White Horse, with a show that would kick my ass well into Monday morning if held on a usual Friday...When you gotta' - you gotta'. There will be big hugs, glad handing and maybe a reach around or two if folks don't mind their manners as my West Coast lady-man rocker friends The Grannies return for the first of a string of SX week dates around Texas. Along with the familiar Saustex contingency we'll have Pat Todd & The Rank Outsiders from L.A. and Baltimore's Western Star who played a great set at the Austin Corn Lover's Fiesta last year. It goes without saying, make the scene.

WEDNESDAY MARCH 12th 6pm

THE WHITE HORSE

501 COMAL ST., AUSTIN, TX

$5, 21+

6pm Special Guests TBA

7pm Rice Moorhead & His Ladies

8pm Western Star

9pm Pat Todd & The Rank Outsiders

10pm Churchwood

11pm The Grannies

Midnight Hickoids

1am The Beaumonts

And even though I might carp about getting over-extended during this week I have to confess the control-freak in me enjoys the challenge of scheduling and trying to keep the bills fresh. I'm really excited about this show and particularly to see Crying Nut (Seoul, South Korea), one of Asia's biggest homegrown rock bands. Check their video for "Circus Magic" from the link at left, one of the greatest I've ever seen. This will be a truly international event with acts from around the world.

EXCHANGE ENTERTAINMENT, SAUSTEX & THE DOG AND DUCK PRESENT A ROCK'N'ROLL CIRCUS GATHERED FROM FOUR CONTINENTS!

FRIDAY MARCH 14th NOON - 8PM

THE DOG & DUCK PUB

406 W. 17th St., AUSTIN, TX

FREE, ALL AGES

noon-12:25 pm The Copper Gamins (Mexico City)

12:35 -1:00 pm The Grannies (San Francisco, CA)

1:10 - 1:35 pm The Chevelles (Perth, Australia)

1:45 - 2:15 pm A Pony Named Olga (Berlin, Germany)

2:25 - 2:50 pm Trixie Trainwreck No Man Band (Berlin)

3:00 - 3:30 pm BP Fallon with Ghost Wolves (Dublin, Ireland)

3:40 - 4:20 pm Gay Sportscasters (Austin, TX)

4:30 -5:10  pm Crying Nut (Seoul, South Korea)

5:20 - 6:00 pm The Hares (San Antonio, TX)

6:10 - 6:50 pm The Woggles (Atlanta, GA)

7:00 -7:40  pm Pat Todd & The Rank Outsiders (L.A., CA)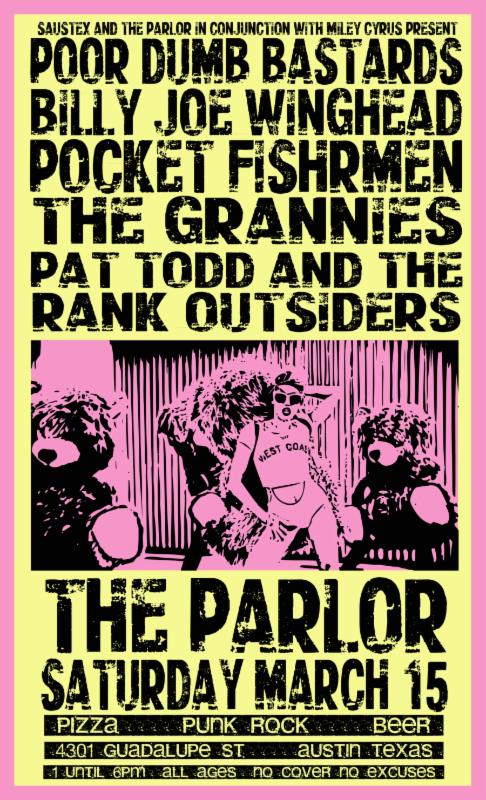 As counterintuitive as it may seem, I'm going to start Saturday off by hosting a pizza party of unprecedented girth and lewdness at The Parlor. Miley Cyrus has been kind enough to lend her celebrity to the event. Try as they might - I doubt the trans-Atlantic dopplegangers Byron Dean and Dean Scheben and their somewhat less rotund but equally deviant Oklahoman counterpart Screamin' Steven Jones will be able to outdo Miley's antics on her latest tour. It's really a question of budget more so than willingness or ability. Nevertheless, nobody's gonna' wanna' eat ANYTHING by the time they leave the stage.

SAUSTEX AND THE PARLOR (IN CONJUNCTION WITH MILEY CYRUS) PRESENT

SATURDAY MARCH 15th 1PM - 6PM

THE PARLOR

4301-B GUADALUPE ST., AUSTIN, TX

FREE, ALL AGES

1pm Pat Todd & The Rank Outsiders

2pm The Grannies

3pm Pocket FishRmen

4pm Billy Joe Winghead

5pm Poor Dumb Bastards

I'm also very pleased to be able to carry on the tradition of "The Town South of Austin" showcase featuring rootsy rock bands from San Antonio. This year's show (Volume 8!) is again presented in part through the generosity of TEX POP and PLANET K.

TEX POP, SAUSTEX and PLANET K PRESENT

"A TOWN SOUTH OF AUSTIN - VOLUME 8"

SATURDAY MARCH 15th 8PM-1AM

ABGB

1305 W. OLTORF ST., AUSTIN, TX

FREE, 21+

8pm Hickoids

9pm Apache '65

10pm Villela

11pm Los #3 Dinners

Midnight Mitch Webb & The Swindles